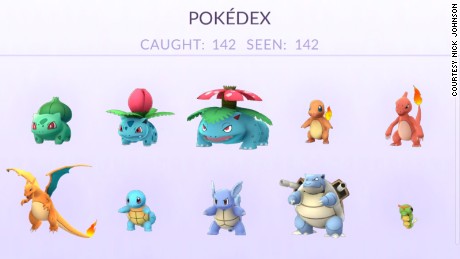 New York (CNN)Pokmon Go is the video game that has everyone talking. The interactive hit blends the virtual world of Pokmon with the real world, and it has people across the globe going outdoors with just one goal: gotta catch 'em all.
A Brooklyn man is laying claim to being the first person to catch all 142 Pokmon available in the United States. CNN reached out to Nintendo and Triplepoint PR, the firm representing Pokmon, for confirmation and has not yet received a response.
"You want to catch 'em all and become a Pokmon master, [it's] the childhood dream, but it never really occurred to me I might be the first one to do it until I got pretty close," said Nick Johnson.
According to Johnson he spent anywhere between six to 10 hours a night walking around the city, staying up as late as 4 or 5 a.m. toward the end of his journey.
The road to Pokmon mastery was certainly not without adventure. Johnson said the craziest thing he did to catch one was order an Uber to drive him around Jersey City after another player tipped him off to an abundance of Dratini, a kind of Pokmon, there.
"I had the driver drive me around for a little bit until I found it. Luckily it didn't take me too long, so it wasn't too big of an Uber bill," he said with a laugh.
Catching them all isn't quite the end of the journey for Johnson. He said there are three regional Pokmon that are not available in the United States. The region exclusive Pokmon are Mr. Mime in Europe, Farfetch'd in Japan and Kangaskhan in Australia and New Zealand, but he'll soon have help catching those, too.
Johnson told CNN that Marriott Rewards offered to partner with him for the rest of his journey. A spokesperson for Marriott confirmed, saying, "Marriott Rewards will be helping Nick on his international journey to catch the last remaining Pokmon."
Johnson said the details are still in the works but he's very excited about the chance to take his skills internationally. In the meantime, "I'll probably be sleeping a little more regularly," he said.
With Pokmon fever sweeping the globe, players all around the world are joining in, sometimes to extreme degrees:
— Two Canadian teens accidentally wandered across the international border into Montana while playing the game. Border patrol agents quickly spotted them and sent them back home to their mom, with the agency saying, "Both juveniles were so captivated by Pokmon Go games they lost track of where they were."
— A
reporter was called out
playing the game during a press briefing. The whole incident was caught on camera. U.S. State Department spokesman John Kirby asked the reporter, "You're playing the Pokmon thing there aren't you?" The sheepish, unidentified reporter responded, "I'm just keeping an eye on it."
— Two men in their early 20s lucked out in California after surviving
falling of a cliff while playing Pokmon Go
. Despite the game's warning to be aware of your surroundings, the two men fell an estimated 50 to 90 feet. Both were transported to a hospital with injures.
— An Oregon man, meanwhile, didn't let injuries stop him from playing. He told
CNN affiliate KPTV
he was stabbed while searching for Pokmon in a park at 1 a.m. After the incident he played on, even stopping by a convenience store for chips and beer before eventually getting medical attention. He walked away from the incident with eight stitches and an undetermined number of Pokmon.
Read more: http://www.cnn.com/2016/07/24/entertainment/pokemon-go/index.html