Reported attacks and bias incidents are up significantly after deadly attacks in Paris and San Bernardino last year and Trumps plan to ban all Muslims
Rasheed Albeshari and his friends were playing volleyball by Lake Chabot in northern California when they took a break to pray. The Sunday hangout at the popular park across the bay from San Francisco had become a weekly tradition for the group, but on 6 December, their afternoon prayers were quickly interrupted.
Terrorists! You have nothing but hate!
Albeshari, a 32-year-old Muslim American, turned around and couldnt believe what he saw. A woman was screaming at him and his four friends, who are also Muslim. Albeshari, who was born in Tennessee, turned his camera on.
You are very deceived by Satan. Your mind has been taken over, brainwashed, the woman, later identified as Denise Slader, shouted, his footage showed.
This lady was talking about my God, Albeshari narrated on camera, before Slader physically confronted him, allegedly hitting him with an umbrella and throwing her coffee in his face.
Albeshari, who drives for Uber and Lyft, had seen news reports of hate crimes against Muslims, but he never imagined it could happen to him. It was shocking, he said in a recent interview. I was born here. This is my country.
While most cases of anti-Muslim hate crimes arent caught on video, advocates say the assault Albeshari faced has become increasingly common across the US, and new California data suggests there has been a big jump in bias incidents in the state with serious consequences for Muslim communities that extend far beyond the individual attacks.
The Council on American-Islamic Relations (Cair) in California published new data this week showing that bias incidents against Muslims in the state increased by 58% between 2014 and 2015, and experts say communities throughout the US are seeing similar trends.
A total of 1,150 incidents were reported to Cair-California last year, which include complaints involving employment and housing discrimination, school bullying, and interactions with law enforcement.
The report says the deadly attacks in Paris in November and in San Bernardino, California, in December, along with the success of presidential nominee Donald Trump, have fueled a distinct rise in Islamophobia in the US, with acts of discrimination, harassment and violence that can make it challenging for Muslims to go about their daily lives.
It just becomes very numbing and wearying dealing with this day after day after day, where your faith is vilified in the public arena, said Ibrahim Hooper, national spokesman for Cair.
The data in California, which has the largest Muslim population in the country, echoes a number of recent reports that have indicated sharp increases in hate crimes and bias incidents.
After Paris and San Bernardino, hate crimes against Muslim Americans and mosques tripled, according to a California State University researcher, who said the US had not seen such a high frequency of incidents since the September 11 terrorist attacks. Other states have also recently catalogued large increases in anti-Muslim incidents.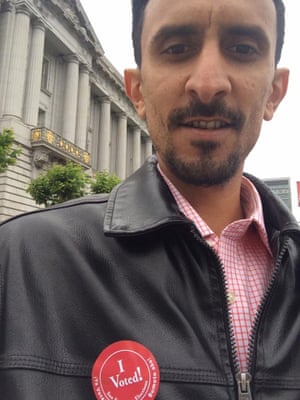 Read more: https://www.theguardian.com/us-news/2016/jul/28/california-muslim-attack-hate-crime-report